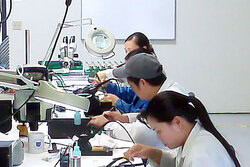 PCB

Assembly Service
Shax Engineering and Systems offers quick-turn, high-mix, low volume PCB assembly service for prototype and new product introduction (NPI).
These solutions are geared toward a wide variety of industries and are intended to facilitate the transition from the lab to production. Our capabilities are designed to meet time constraints and project timelines of engineers and project managers.
Our PCB assembly capabilities encompass through-hole to fine pitch Surface Mount Assembly (SMT) and we adhere to a quality control system throughout the manufacturing process to provide reliable services. Our assembly service highlights including:
CONSIGNMENT assembly: Where the customer will procure parts and materials and Shax Engineering will complete PCB assembly service.

COMBINED

assembly: If the customers chose to provide parts of the material of his design, Shax Engineering will complete the rest of the parts as well as the assembly.
TURNKEY assembly: For better time management and accuracy of the assembly, parts selections Shax Engineering will provide 100% of the parts along with the assembly.
INTEGRATED PROCESS: Our PCB assembly process is fully integrated with PCB Design and PCB Fabrication Services. These integrated services are intended to provide a full-function contract manufacturing service to reduce time and lower cost.

MATERIAL MANAGEMENT

: Our PCB assembly is fully integrated with our PCB Design and PCB Fabrication Services. These integrated services are intended to provide a fully functional contract manufacturing service to reduce time and lower cost.
PCB ASSEMBLY STARTING POINT: The following information is essential to the assembly process:

Bill of Materials
GERBER file and Assembly Drawing
Package specifications
Fabrications Instructions
Quantity
Place and Delivery Schedule
Special Assembly instructions and special fixture/tooling
PCB

Fabrication Services
SHAX Engineering & Systems' is PCB Fabrication Services is made by our sister company and sometimes we are using third-party partners. We have the capability to fabricate complex and technologically advanced multi-layered printed circuit board fabrication. We produce custom boards to meet your requirements, specifications, and delivery time. SHAX Engineering established a seamless process to control the manufacturing costs while producing quality boards that meet or exceed our customer's specifications. 
SHAX Engineering offers high-precision and high repeatability solutions that cover a wide range of flexible printed interconnect design choices. These board contents are custom material, with varying surface finishes and single and multilayer constructions that meet industry standard and manufacturing specifications. With a quick turnaround of 5 – 7 working days for small to medium and 10 – 15 working days for production quantities, Shax Engineering is committed to delivering best-in-class services. All of our board and NETLIST are compared and electrically checked for failure analysis before submission to manufacturing. flying probes testing for open and close functionality is performed before releasing the circuit board assembly services for delivery.
RIGID PCB FABRICATION CAPABILITIES:

Quick Turnaround – 5 to 15 day (based on board quantity and complexity)
2 – 40 layers
Material including
Rigid, Flex, and Rigid-flex 
Prototypes Production Quantities
Gerber to CAD Netlist Comparison
NetList Testing: Flying Probe
Engineering Support Services